I have a love/hate relationship with HIIT workouts! I hate the thought of them, but I love how I feel after I do them.
Who's with me?
Furthermore, I love follow-along videos in general for my workouts, but when it comes to doing a HIIT workout at home, I think there it is beneficial to set your Interval Timer (download an app on your phone) and just do it!!! I find that not watching someone else do the workout helps me push harder. Try it and tell me what you think!
HIIT Workout At Home
Despite what I am telling you about not following along and pushing yourself as much as possible, I still made you a follow along video. I know that I prefer a video in many cases too. Before we get to my HIIT workout at home video, let me show you my routine.
You will be doing seven exercises each for 45 seconds with a 15 second break.
Here are the seven exercises included in your HIIT Workout at home:
Burpees
Mountain Climbers
Jump Squats
Push Ups
Lunges
High Knees
Plank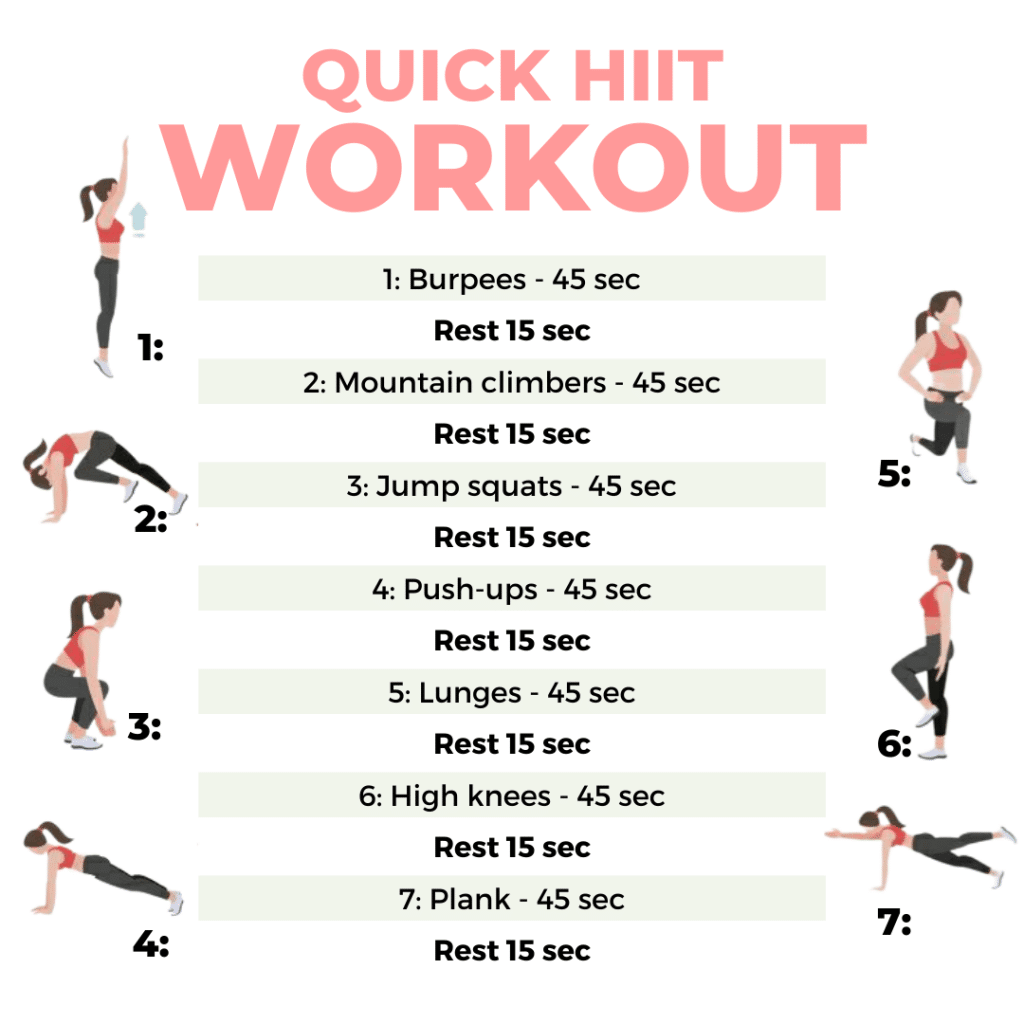 HIIT Workout At Home Benefits
Just a quick reminder of the benefits that you will experience from this quick HIIT Workout at Home:
HIIT Workouts burn 25-30 percent more calories than other forms of workouts, which means you can burn the same number of calories but spend less time exercising.
Your metabolism will be faster for hours after your workout, more so than jogging and weight training.
You will tone up your legs, arms, and core. Many HIIT moves include bodyweight exercises that will tone up your whole body.
HIIT Workouts improve your oxygen consumption, which results in a better fitness level and cognitive function. One study found that performing HIIT Workouts for 20 minutes four times a week improved oxygen consumption by 9%.
Regular HIIT Workouts improved your metabolic health. You will reduce your heart rate, blood pressure, and blood sugar.
For more, check out my At-Home HIIT Workout for Beginners.
Jump Squat Tutorial
I created a quick jump squat tutorial to make sure you execute it with proper form:
HIIT Workout at Home Follow Along Video