By popular demand, another Prolong soup recipe: the Minestrone and Quinoa Soup blend. If you have seen my post 5 Prolon-Inspired Soup Recipes, you will find that this one resembles closely the Minestrone Soup Blend recipe. The main difference is the addition of quinoa. Also, it doesn't include legumes and has a few different vegetables. Let's check it out!
Original Minestrone and Quinoa Soup Blend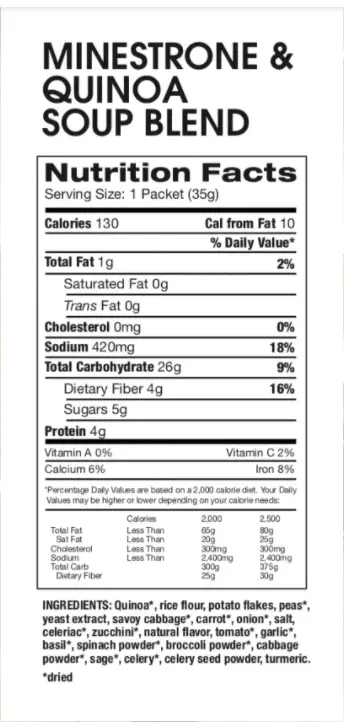 Homemade Prolon Quinoa Minestrone Soup
Let's get to my recipe. You will notice that I omitted the yeast extract, which is just a flavoring anyway. Apart from that, I stuck to the ingredient as closely as possible and got a pretty good macronutrient ratio.
Nutrition Facts for My Homemade Version

Prolon-Inspired Quinoa Soup Minestrone Recipe
Serves 8 (keep in mind, these are tiny servings with only 130 calories each, as per the original Prolon kit)
Ingredients
1 cup cooked quinoa
1 medium potato, chopped
3/4 cup rice flour
1 cup spinach
1 cup green peas (fresh or frozen)
1/2 cup cabbage, chopped or shredded
1/2 cup carrots, chopped or shredded
1/2 cup onion, chopped
1/2 cup celeriac, chopped
1/2 cup zucchini, chopped
1/2 cup tomato, chopped
1/2 cup celery, chopped
1/2 cup broccoli, chopped
1 clove of garlic, minced
1 Tbsp sea salt
1 tsp basil
1/2 tsp turmeric
1/2 tsp celery seeds
1/2 tsp sage
Instructions:
Cook the quinoa according to package instructions.
Mix the rest of the ingredients except for the spinach, green peas, and rice flour in a big pot. Cover with water.
Simmer until the potatoes are tender.
Mix 3/4 cup of water with the 3/4 cup of rice flour with the spinach in a blender.
Add to your soup and whisk in.
Add your green peas and cooked quinoa.
Let your soup thicken or add water if you would like it less thick.
Prolon Minestrone Soup Recipe Video