This blog is all about modified fasting and intermittent fasting. I have been able to enjoy the benefits of fasting and sharing everything as I am learning with you. I have not experimented much with keto because, honestly, I like my carbs and I have been feeling great. However, I decided it was time to give it a try and take you along with me. In this blog post, we are going to talk about the main benefits of using intermittent fasting with keto and I am going to share the exact menu plan I will be using, including all the macros and calories. I am even going to provide you with a free 7-Day Intermittent Fasting Keto Meal plan pdf file, so keep reading!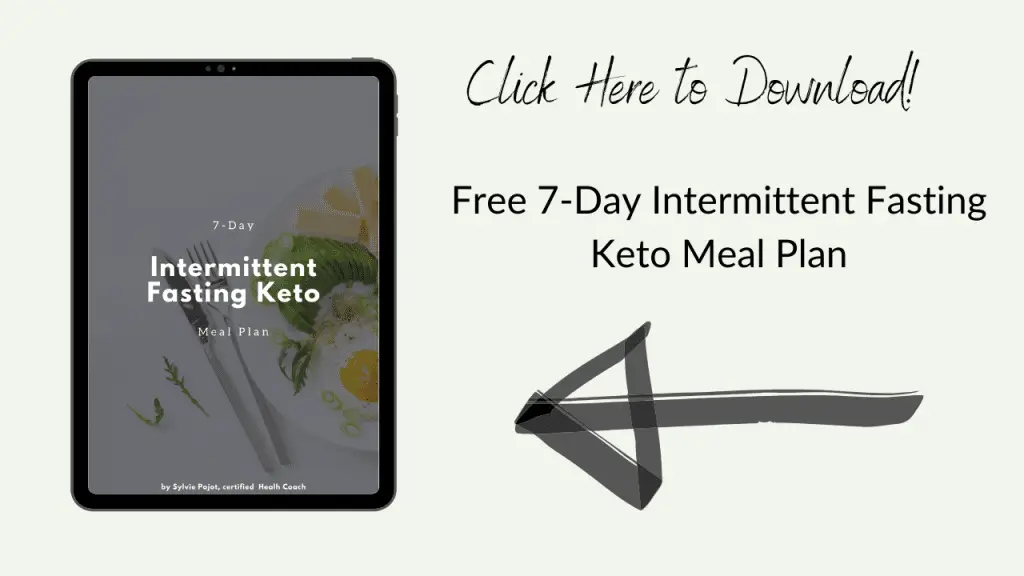 Intermittent Fasting With Keto Benefits
I typically don't recommend women practice both intermittent fasting and the keto diet long term, mostly because women tend to require more carbs to maintain a healthy hormonal function and may be more susceptible to the negative effect of too much stress hormones (read Should I Practice Intermittent Fasting With or Without Keto for more info). However, I always recommend you experiment to see what works for you since each of us is so unique. That's what my 7-Day Intermittent Fasting Keto Meal Plan pdf will help you do as well. You may find that combining intemittent fasting with keto brings you some important benefits.
Easier Fasting
The keto diet stimulates fasting by keeping your carb intake so low that your body runs out of glycogen that it needs to start using fat stores to produce ketones for energy. If you have no fasting experience, going keto will make your fasting easier as your body will already be accustomed to switching from glucose to ketones. If you tend to get "hangry" when you have to go without food, you may find that going keto is a better option. That's not to say that it won't be hard at all, as you will find it difficult to let go of your carbs. When you get "hangry" it means that you are carb dependant. As your body transitions to producing ketones, you may feel ill and experience the "keto flu". There is no easy solution, but a teaspoon of Hymalian salt in water may help alleviate your symptoms.
More Fat Loss
Combining intermittent fasting with keto may help you lose weight faster. My weight loss journey involved the 20:4 intermittent fasting method without the keto diet. It took me almost a year to lose 20 lbs because I would indulge in the carbs pretty regularly. If you want faster results, the keto diet may be your answer.
Read How I Lost Weight During Perimenopause here if you want to learn more about my story.
Fewer Cravings
When you practice intermittent fasting without the keto diet, you are more likely to indulge in some treats during your eating window. You may find that sometimes you indulge too much and it makes your fasting more difficult again the next day. Sometimes, you lose some of the progress you have made. It's all about balance and learning to find what works for you, but with the keto diet, you will be avoiding this type of yoyo-ing.
7-Day Intermittent Fasting Keto Meal Plan
Ok, as I promised, you can download a free 7-Day Intermittent Fasting Keto Meal Plan pdf file. You will be fasting for 16 hours each day, which means you won't be having breakfast. You can have lunch around noon, dinner around 7 pm, and a snack around 3 pm if you are hungry and need more calories. The meal plan includes the number of calories and all your macros to help you gauge if you need the snack or not. You may use a calorie calculator to help you determine how many calories you require.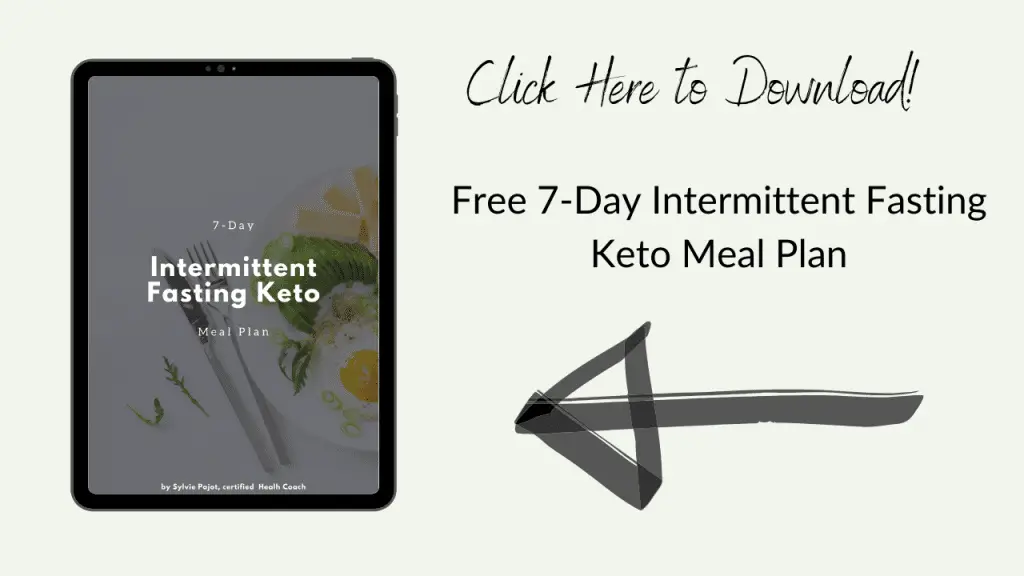 How Many Carbs Is Keto?
If you modify the meal plan to suit your own needs and tastes, you need to understand how to calculate your carbs. Low carb is anything under 100 grams a day. Some sources claim that keto is anything under 50 grams of carbs a day while others recommend consuming below 20 grams of carbs. My meal plan will put you at around 20 grams of net carbs a day.
Net Carbs Vs. Total Carbs
To calculate your net carbs, substract your grams of fiber from your total carbs. For example, that first lunch salad on the menu plan has 22 grams of carbs and 12 grams of fiber. That brings your net carbs amount to 10 grams.
Foods to Eat
Most of your meals will be based around these foods:
Meat such as beef, lamb, turkey, chicken, etc. Cured meat in moderation.
Fish such as salmon, sardines, tuna, and mackerel
Eggs
Healthy oils such as coconut oil, extra virgin olive oil, and avocado oil
Avocado
Olives
Low carb veggies such as greens, cucumber, celery, radishes, onions, mushrooms, etc.
Nuts and seeds
Snack Ideas
On days your feel too hungry, you can add some snacks to the 7-Day Intermittent Fasting Keto Meal Plan I am providing you. Here are some ideas you may enjoy:
Chia Seed Pudding
Hard-boiled egg
Cold cuts and cheese
Avocado
Olives
A handful of nuts
Keto veggies and dips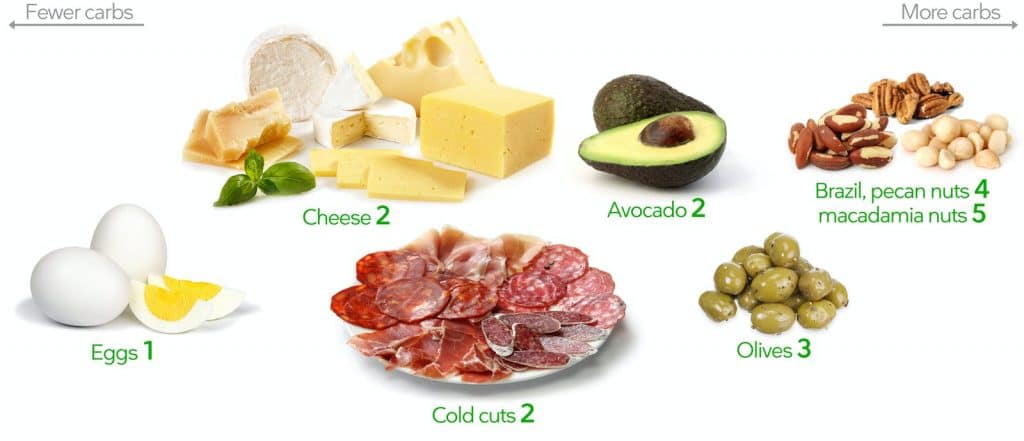 How to Not Break Your Fast in the Morning
You will notice that I include coconut milk in my morning coffee. Most fasting experts would tell you that any type of calories will break your fast and that you need to take your coffee black. I have tested my blood glucose level before and after my coffee and it doesn't change, so I don't mind not sticking to this "rule". When you eat, your blood glucose rises. Fasting helps improve your insulin sensitivity by reducing the need to produce insulin for a longer time each day when you are fasting. When your blood glucose doesn't rise, your body is not producing more insulin. You may also add ghee or MCT oil to your coffee.
7-Day Intermittent Fasting Keto Meal Plan Pdf
Get your 7-Day Intermittent Fasting Keto Meal Plan Pdf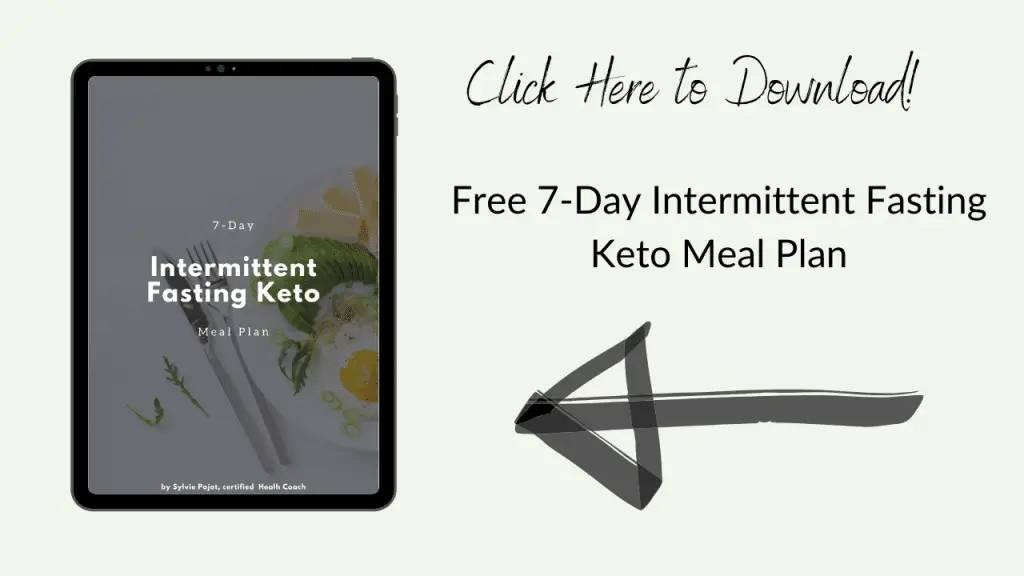 Here's what my intermittent fasting with the keto diet meal plan looks like. You will notice I have two lunch salads that I use over and over again. It makes mealtime so much more simple since you can make a big salad and have leftovers for the next day. You can always add more variety if you wish. Don't forget to download the pdf to get all the recipes, macros, and calories:
Day 1
Breakfast: Coffee with coconut milk
Lunch:
Healthy Fats Rich Lunch Salad
Dinner:
Dinner salad with breaded chicken breasts
Supplement: More Greens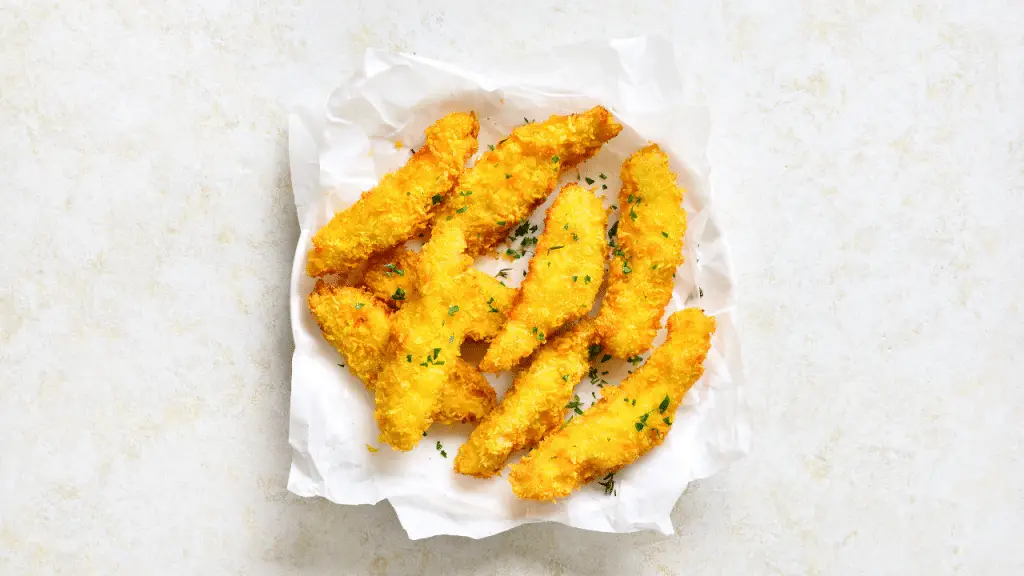 Day 2
Breakfast: Coffee with coconut milk
Lunch:
Healthy Fats Rich Lunch Salad
Dinner:
Ground Beef Stir Fry
Supplement: More Greens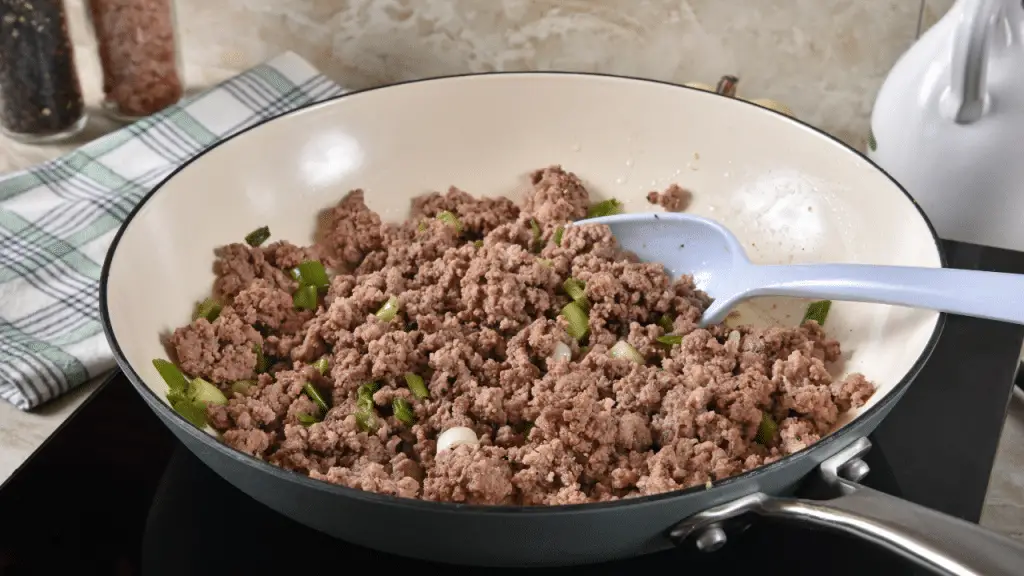 Day 3
Breakfast: Coffee with coconut milk
Lunch:
Healthy Fats Rich Lunch Salad
Dinner:
Salmon With Avocado
Supplement: More Greens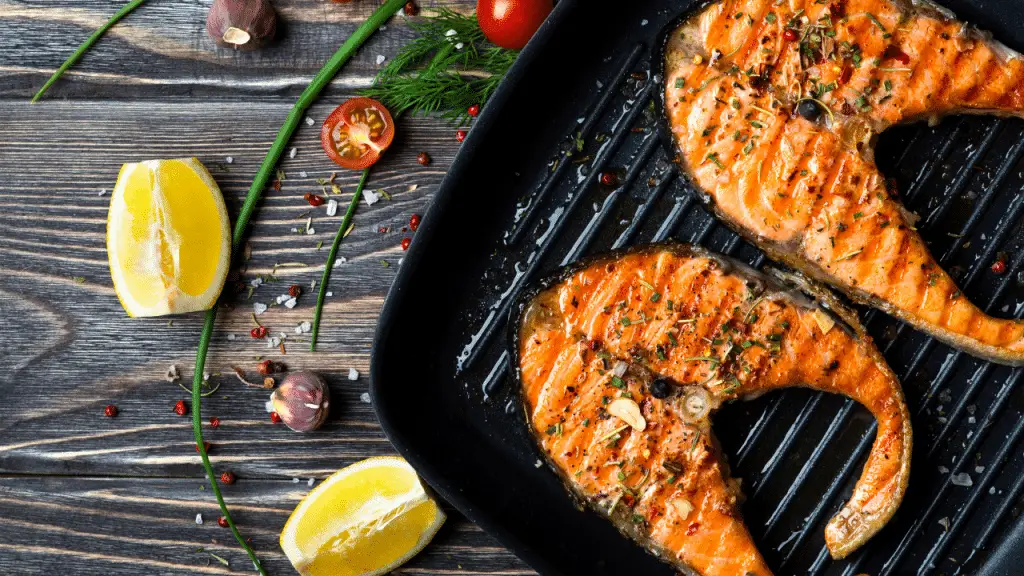 Day 4
Breakfast: Coffee with coconut milk
Lunch:
Antipasto Salad
Dinner:
Salmon With Avocado (Leftovers)
Supplement: More Greens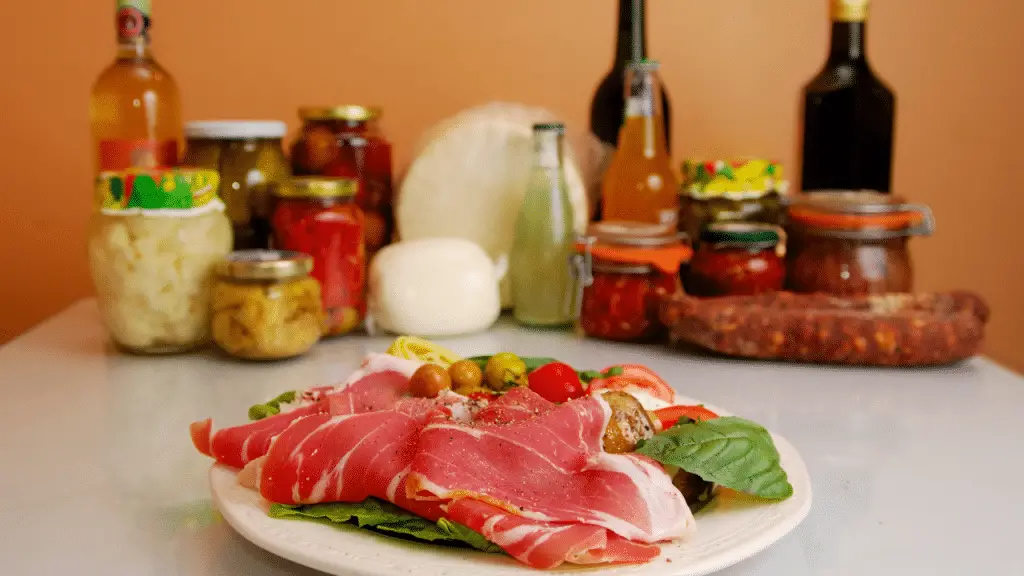 Day 5
Breakfast: Coffee with coconut milk
Lunch:
Antipasto Salad
Dinner:
Ground Turkey With Riced Cauliflower
Supplement: More Greens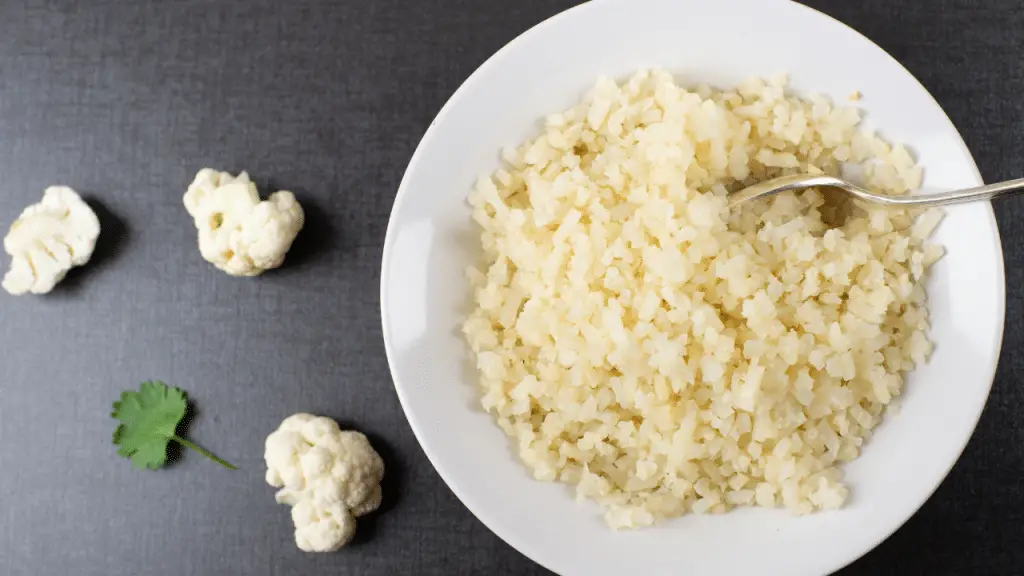 Day 6
Breakfast: Coffee with coconut milk
Lunch:
Antipasto Salad
Dinner:
Roast Chicken With Broccoli and Feta Cheese
Supplement: More Greens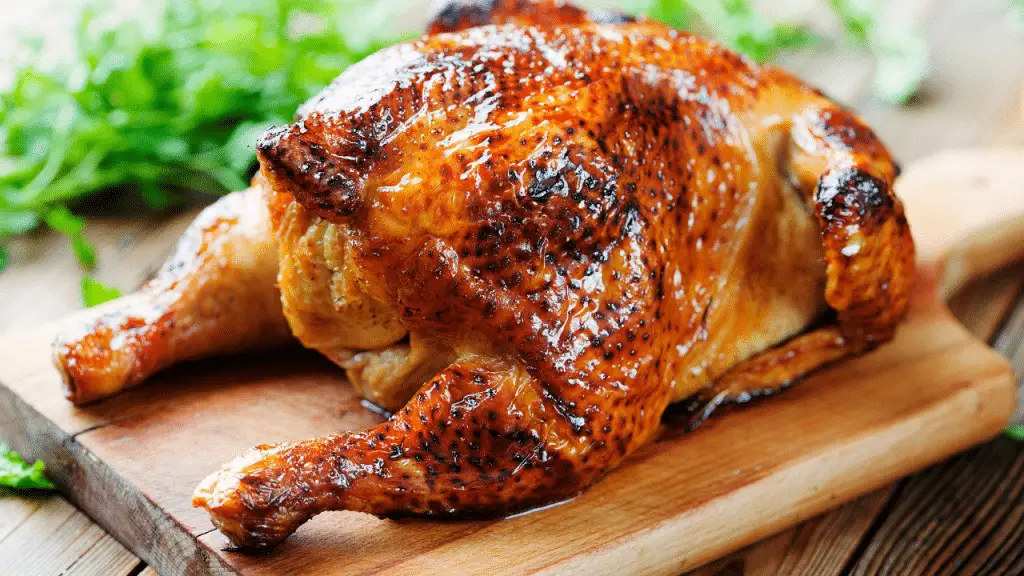 Day 7
Breakfast: Coffee with coconut milk
Lunch:
Healthy Fat-Rich Salad
Dinner:
Keto-Fried Chicken With Sauerkraut
Supplement: More Greens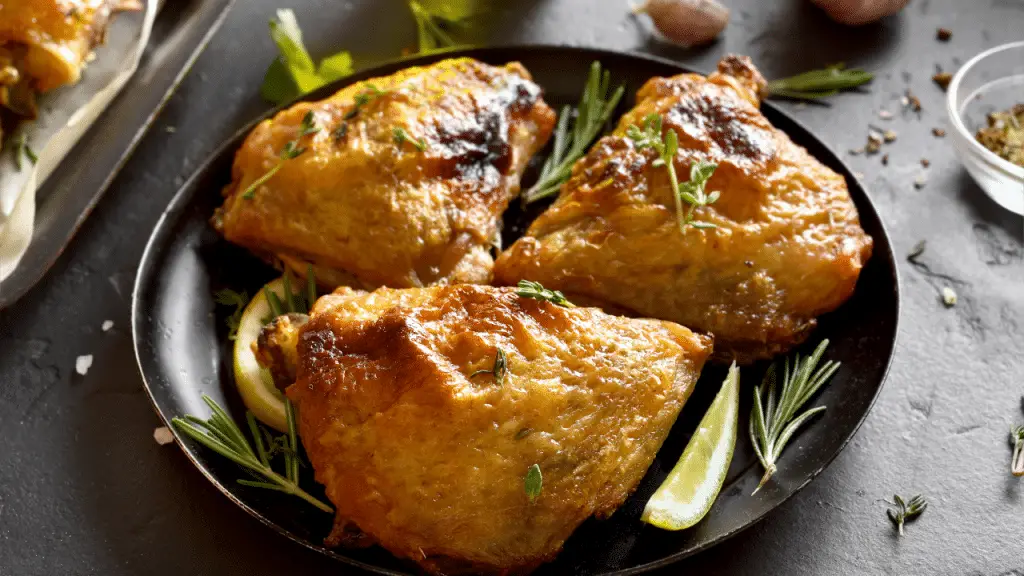 Intermittent Fasting With the Keto Diet Meal Plan Video