So, you have decided that you wanted to go on a water fast but you are wondering how long you should fast for maximum benefits. To answer this question, there are a few things to consider.
Fasting Benefits
Before we talk about how long you should fast, let's get you nice and motivated by talking about the benefits of fasting:
Decreased blood glucose/insulin levels: Many of us eat too much and too frequently. This causes our body to have to produce more insulin and may cause insulin resistance. Besides all the health problems that can stem from insulin resistance like high blood pressure, high cholesterol, and type 2 diabetes, it makes it really hard to lose weight.
Autophagy: Autophagy means your body is cleaning out damaged cells. It literally means "self-eating". In summary, your body is getting rid of garbage and self-regulating to reach its optimal function.
Weight loss: This one is obvious because of the overall decrease in calories. However, it's more than that. Fasting boosts your metabolism and helps decrease your appetite.
Ketone production: Fasting is a way to get into ketosis. When you are ketosis, it means your body has used up its stores of glycogen and is using fat for fuel. Yes, your stored fat!
Intestinal stem cell production: As you age, your stem cell production decreases. The reduction in intestinal stem cell production makes it harder to recover from gastrointestinal infections and other digestive issues. Fortunately, studies have shown that a 24 hour fast is enough to reverse this decrease in stem cell production
Immune reboot: Fasting for 72 hours can reboot your whole immune system. Dr. Valter Longo, through his work, has found in a 2014 study has found that fasting reduces your white blood cell count. In case you didn't know, Dr. Valter Longo is the creator of the fasting mimicking diet, which makes it possible to benefit from prolonged fasting without giving up food.
Musculoskeletal stem cell production: If you suffer from pain, fasting will help you heal your injured tissues.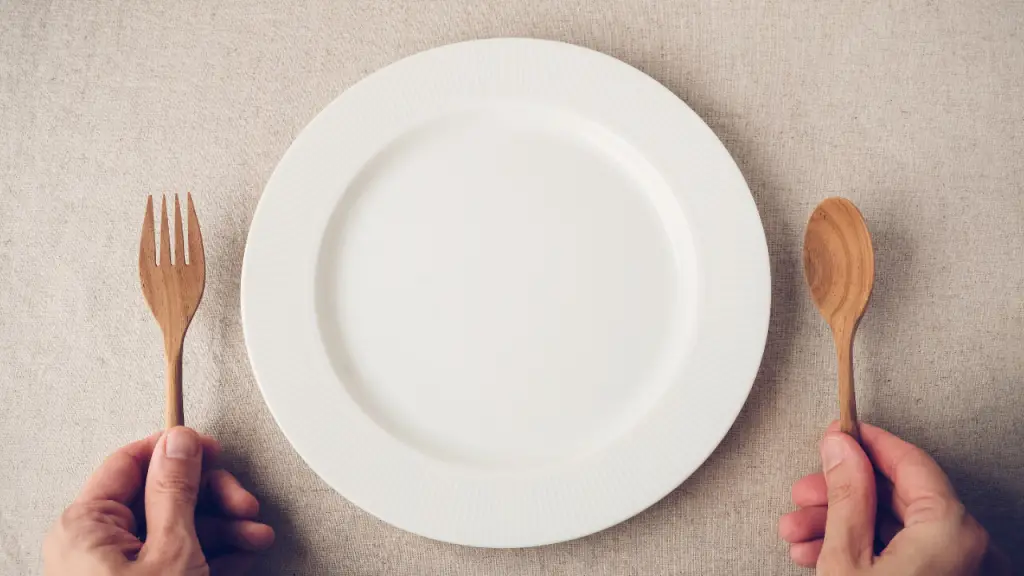 Types of Fasting
How long you should fast will also depend on the type of fasting you choose. There are a few different types of fasting to pick from depending on your goals:
Intermittent fasting: I used to think that intermittent fasting was just about skipping breakfast. I was wrong! There are many different ways to practice intermittent fasting. Yes, you can shorten your feeding window every day and fast for 14-20 hours. You can also do it every second day or eat 500 calories 2 days a week. Some people also fast 36 hours every second day, it's called alternate day fasting. In summary, you can find the right intermittent fasting approach for you, it is so much more than just giving up breakfast!
Fasting mimicking diet: The fasting mimicking diet is the approach that I got me started with fasting. I am a huge fan of the fasting mimicking diet as it has allowed me to lose the weight I had been struggling to lose, increase my energy, and stop feeling like food was ruling my life. It gave me food freedom! I have many meal plans and recipes to get you started, take my quiz What is your fasting personality? and you will receive a free quickstart guide to help you get started.
Water fasting: Water fasting is used in the context of intermittent fasting (when you are not in your eating window), but many are experiencing amazing benefits while going on longer water fasts.
10-Day Challenge Diet: This approach is based on the fasting mimicking diet, but it's longer and allows for a bit more calories. It may be the right approach for you if your main goals are to lower inflammation, lose weight and reset your hormones.
Other approaches: Some people find they benefit from juice fasts, fruit fasts, and other types of cleanses. It's all about experimenting and see what works best for you.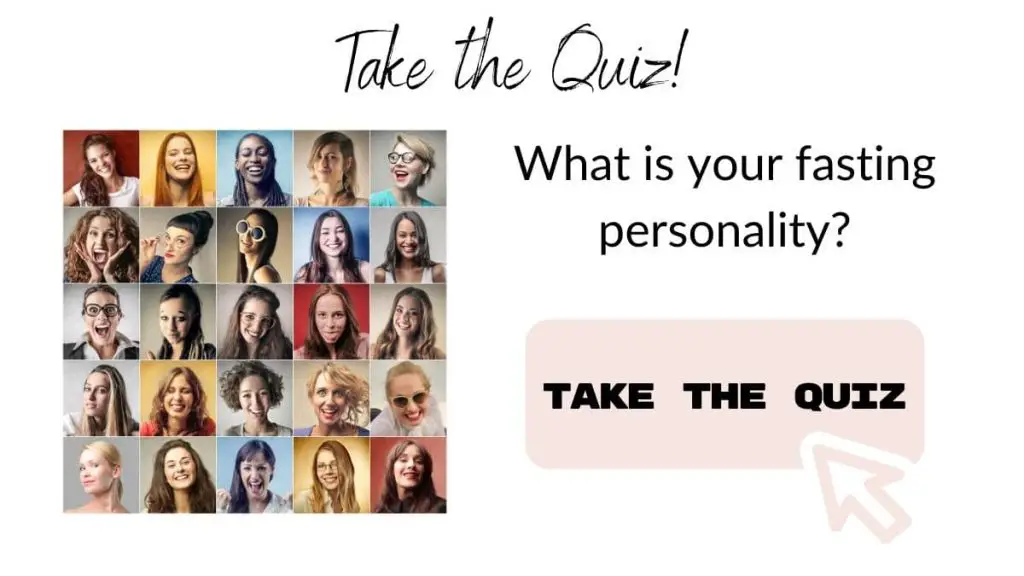 How Long Should You Fast?
Before we into the details to answer this question, you need to understand that everyone is different and the benefits of fasting tend to occur faster of those who are leaner. Mike Mutzel talks about that a lot on his podcast and on his Instagram account. Autophagy will happen at different times in different tissues. Moreover, insulin signaling and mTOR pathways will vary according to your body composition.
However, other well-known researchers like Jason Fung tend to recommend a longer fast (at least 20 hours and 36 hours for best results) for autophagy benefits.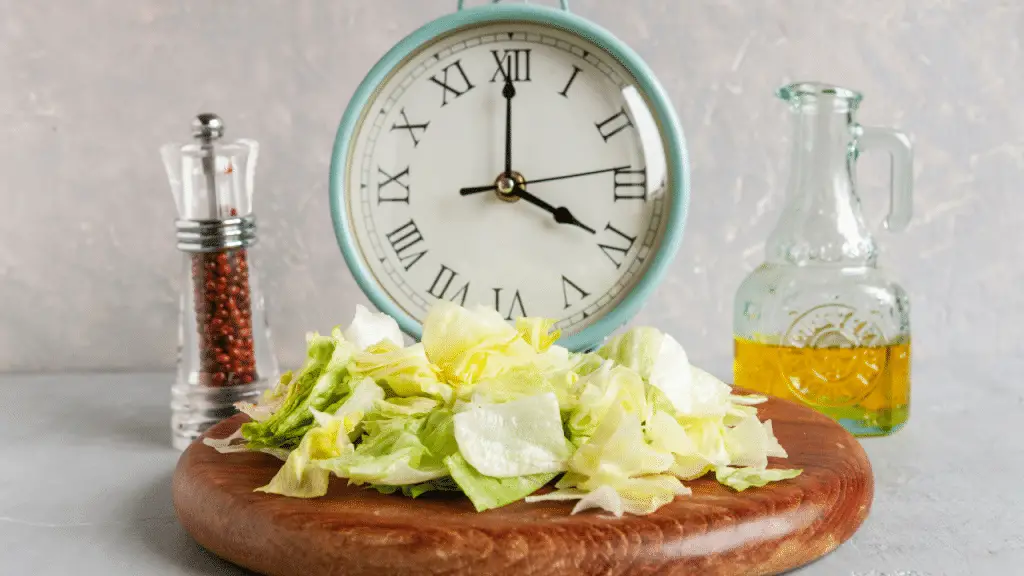 Fasting Benefits Over Time
As I mentioned already, the various fasting benefits will occur at different times during your fast. For the average person, here's what you can expect (according to Dr. Mindy Peltz's Fasting Benefits Over Time Chart):
Maximum benefit for decreased insulin levels: 1 day
Maximum benefit for autophagy: 3 days
Maximum benefits for weight loss and ketone production: 5 days and beyond
Maximum benefits for immune reboot and musculoskeletal stem cells: 2 days
Maximum benefits for intestinal stem cells: 4 days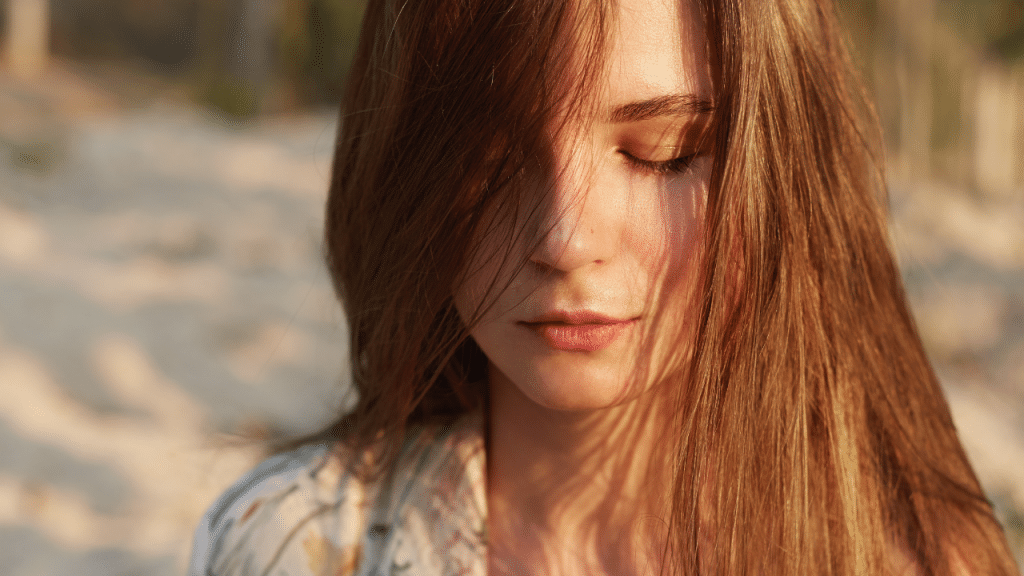 Autophagy Fasting Timeline
Now, the peaks for the various benefits noted above don't mean you won't start noticing any improvement before or after. They are simply rough guidelines to help you determine how long you should fast according to your health goals.
Now, let's talk about when most of the fasting health benefits start. Here's a fasting timeline to give you an idea:
12 hours: Ketone production may start. Ketones reduce inflammation and improve cognitive function. You may measure your ketones using a ketone monitor (check out the Keto Mojo using my affiliate link and get a 15% discount).
18 hours: You most likely have exhausted your glycogen stores and have entered the fat-burning mode. You are producing more ketones.
24 hours: Significant autophagy is happening. Your body is breaking down some proteins linked to neurodegenerative diseases and is starting to repair itself. Furthermore, you will start experiencing some intestinal cell regeneration at this point.
48 hours: Your growth hormone level (GH) is five times higher than it was when you started your fast. Growth hormones preserve lean muscle and reduce fat accumulation.
72 hours: Your body is breaking down old immune cells and producing new ones.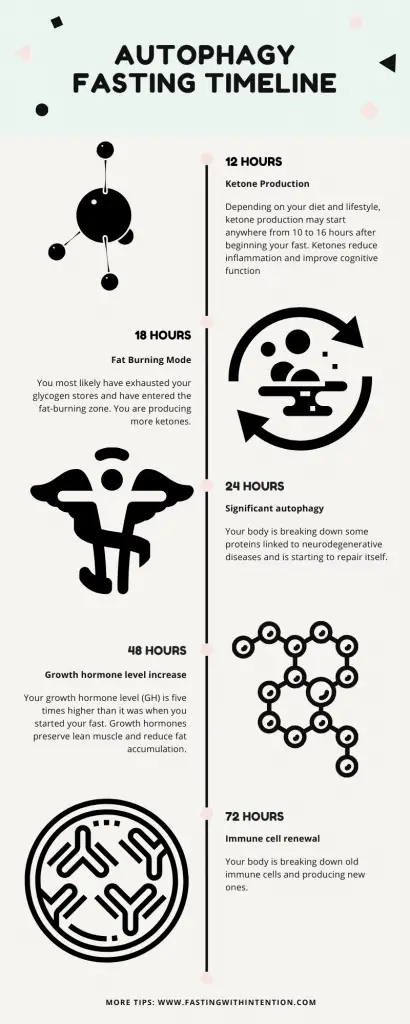 How Long Should I Fast to Lose Fat?
Most Common Fasting Durations for Weight Loss
If your main goal is weight loss, any type of fasting may help. You can start slow and increase the length of your fasts as needed. Let's look at the most common fasting durations you may want to consider:
Daily Intermittent fasting: Fasting from 10-16 hours is enough to help your body use fat stores for energy. The 12-hour fasting window is a good option for beginners who want to start intermittent fasting. If you do not see any weight loss using the 12-hour fasting window, increase it to 16 hours.
The 5:2 method: Restricting your number of calories two days a week could work for you if daily intermittent fasting is not helping you reach your weight loss goals. Along with fasting mimicking, the 5:2 method was helpful to achieve the weight loss results I had been looking for. Restricting your calories two days a week has been shown to create a similar outcome as continuous calorie restriction, but it is more sustainable long term. Moreover, it will improve insulin sensitivity. Just keep in mind that like any lifestyle changes, you need to stay consistent to maintain the results.
Alternate Day Fasting: One study found alternate day fasting effective for weight loss and heart health. Plus, this 36 hour fast will give you considerable autophagy benefits.
A 24 hour fast once a week: Depending on how much experience you have with fasting, you may not find a 36 hour fast twice a week sustainable. That's why a 24 hour fast once a week could be an excellent alternative.
The Warrior Diet: The Warrior Diet involves eating during a 4-hour window. After gaining some experience with fasting through the 5:2 method and the fasting mimicking diet, the warrior diet is the method that I used to lose that last bit of weight I wanted to lose (8 lbs). I would take the weekends off, and I was able to sustain a 1-2 lbs weight loss each week. It felt good to keep seeing the scale go down while still enjoying my favorite foods during my eating window.
5-day fasting mimicking diet: Sometimes, you just need to go all-in for a time. The fasting mimicking diet can boost your metabolism and help you feel satisfied sooner when you start eating normally again.
A 10-Day reduced-calorie diet: If you ate feeling hungry and have the determination to commit to 10 days, a 10-day fast may be what you need. My clients who did this 10-day transformation all reported losing weight without feeling hungry.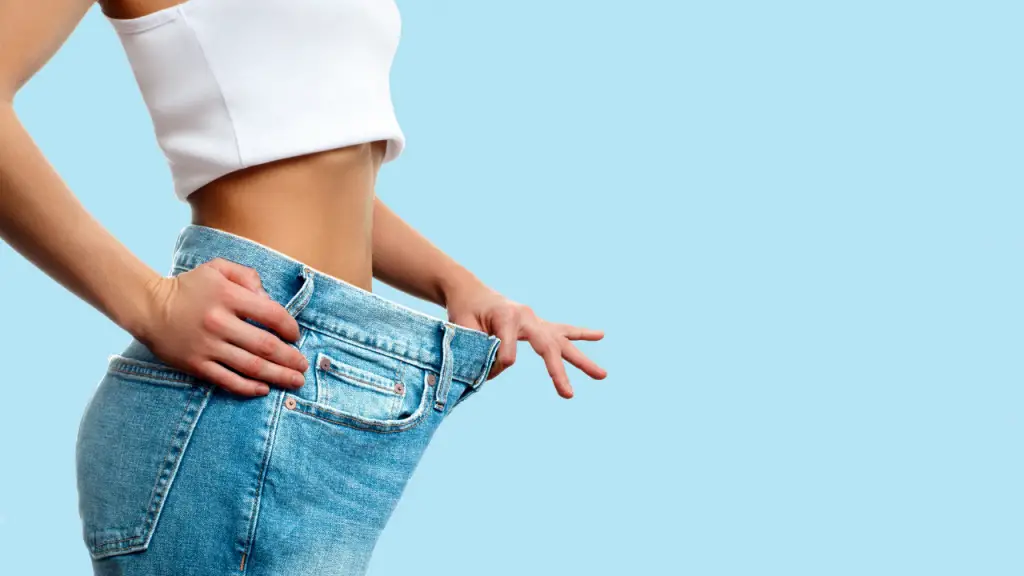 Tips To Improve Weight Loss While Fasting
Some people who fast for weight loss still struggle to see the results they are looking for. Let me share a few tips to help you make sure you are on the right track:
Keep in mind that if your body has some healing to do, it will happen before weight loss. As we discussed already, the benefits of fasting go way beyond weight loss.
As you gain experience with intermittent fasting and the other fasting methods outlined in this post, experiment. Deciding how long you should fast is not a black and white answer. The optimal duration and the preferred method for fasting will change over time.
Eat nutrient-dense foods. If you are stuffing yourself with empty calories during your feeding window, you are not doing yourself a favor. It will make it really hard to reach your weight loss goals. Make sure your diet includes tons of vegetables. That's one advantage of using a menu plan like the one I created for my 10-day challenge diet to make sure you are filling up on anti-inflammatory foods.
Listen to your body. Once you enter the fat-burning mode, you will know. You will feel satisfied and you will be energetic. If you still feel "hangry" find another method to try
Persevere. Deciding how long to fast to lose weight may take some trial and error. Don't give up, remember why you are on this journey.
How Long Should I Fast To Lose Fat Video
How to Break Your Fast
Whatever fasting method you choose to lose weight (or whatever other health goals you may have), it is important to break your fast with intention. Don't just go straight for the junk food! I wrote a post called 15 Best Foods to Break a Fast to help you do just that, but let me share the basics here:
Reduce your cortisol level before breaking your fast. Have a cup of bone broth, herbal tea or a glass of water with Himalayan salt before eating again.
Choose foods that are easy to digest.
Avoid combining fats and carbs in that first meal. Combining fats and carbs may cause a double insulin spike, which will be counter-productive particularly after a fast when you are most sensitive to insulin.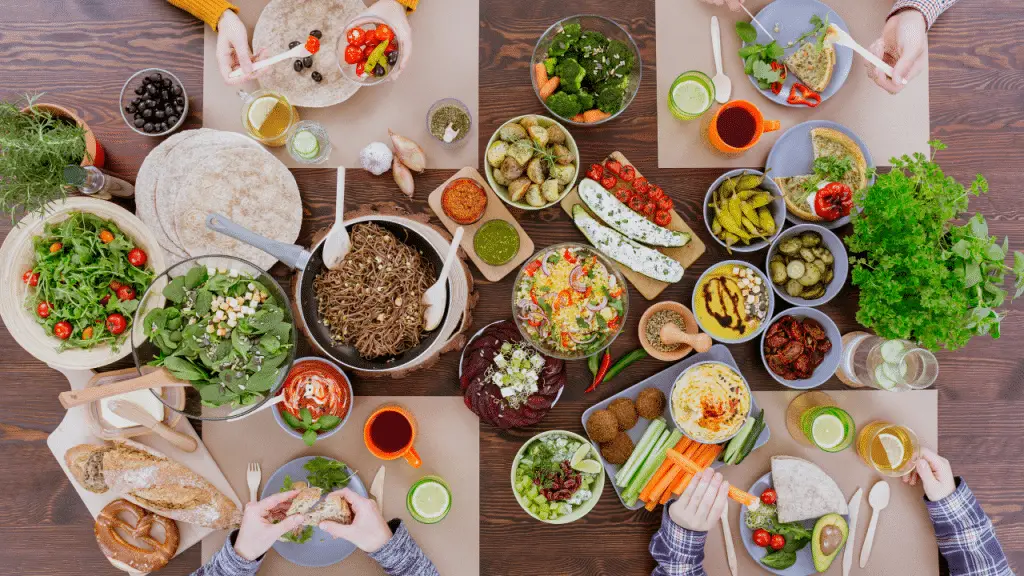 In Summary
How long you should fast certainly depends on your health goals. However, if your main goal is weight loss, you may still have to experiment with the best fasting duration for you. Just always keep in mind that the benefits of fasting are way more than weight loss. Fasting can help you stay young longer, feel better, have more energy, and heal your body.
The more you practice with fasting, the more you will start understanding your body's reaction and its cues. Pay close attention! Also, keep in mind that you may experience some negative symptoms when you start fasting at first. Unless you try intermittent fasting with a longer eating window, I recommend you try a modified fast like the fasting mimicking diet or the 10-day challenge diet. This will help minimize the symptoms.
Congratulations on taking charge of your health and researching the benefits of fasting! Keep at it, you will not regret it!