You all seem to love my Prolon soup recipes. My posts 5-Prolon-Inspired Soup Recipes for a Modified Fast and Prolon-Inspired Minestrone and Quinoa Soup Blend are among my most popular ones. Besides, someone asked for the Prolon tomato soup recipe! Ask, and you shall receive! So here we go!
Prolon Tomato Soup (Macros for the Original)
I am sharing the macros and ingredients for the original to compare with the homemade version.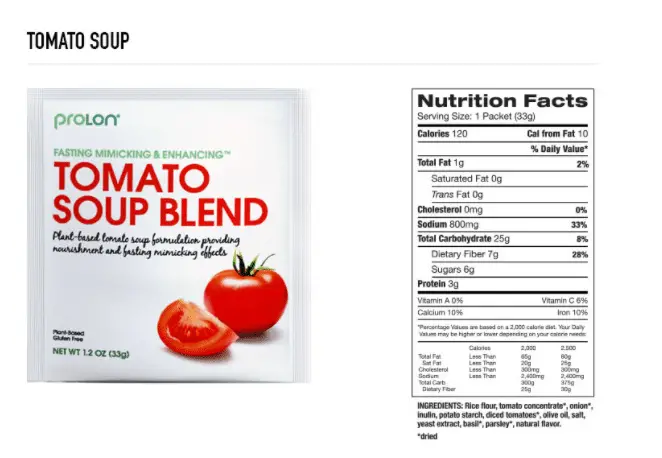 As you can see, the original recipe uses tomato concentrate. We will be using fresh or canned tomatoes instead.
Prolon Tomato Soup Recipe
If you create a menu plan using the Prolon soup recipes I created, I suggest eating more than one serving, so you don't have to prepare many different foods. Instead, eat enough soup to get all your calories for the day! Or you can also have some Prolon Kale Crackers with your soup, yummy!
If you don,t know what your macronutrient ratio and your number of calories should look like on a modified fast, read Modified Fasting: How You Can Benefit From Fasting Without Starving.
Homemade Prolon Tomato Soup Macros
Before we get started with the Prolon tomato soup recipe, let's look at the macros.

As you can see, it has slightly less protein than the original, but otherwise, it comes as close as it could be. As a side note, less protein is a good thing when doing a modified fast. It helps induce autophagy.
Prolon Tomato Soup Recipe
This recipe makes 6 servings. Moreover, each serving has only 121 calories (the original soup has 120 calories per serving).
Ingredients
4 fresh medium-sized tomatoes
1/2 cup rice flour
1/2 cup inulin (3 ounces)
1/2 a sweet onion (or yellow onion), diced
3 Tbsp potato starch (1/2 ounce)
1/2 Tbps olive oil
Basil, parsley and salt to taste
Instructions:
Roast the tomatoes and half onion with the olive oil in the oven at 400F until nice and golden.
Put the roasted tomatoes and all the other ingredients in a blender.
Add enough water to reach the desired consistency and blend.
Your soup is ready when it has reached the desired tickness.
Prolon Tomato Soup Recipe Video